WHY YOUR CONSTRUCTION STEEL SUPPLIER SHOULD BE AISC CERTIFIED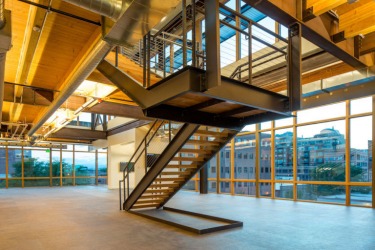 Should you care if your construction steel supplier goes to the heavy expense and trouble to become AISC certified? That depends. Do you want your job to proceed efficiently and safely? Do you expect a structure that will pass code and, more importantly, stand and perform perfectly throughout its expected lifecycle?
A VERY BRIEF HISTORY OF THE AISC
In the late nineteenth century, the novelty of structural steel took the construction industry by storm. Mills experimented with steel recipes and production methods while architects dreamed of grand, fire-proof buildings. Each innovation led to another while successes grew out of failures. Engineers began to hanker after less of a wild west atmosphere for the sake of planning.
It became clear by the early twentieth century that steel could solve a multitude of construction problems. However, as a desired material, engineering in steel begged for industry-wide standardization. A non-partisan technical institute could bring order to the chaos. Without it, designing and building with steel would continue to entailed brain-numbing research into each mill and fabricator's products. As a remedy, the American Institute of Steel Construction (AISC) was born in 1921.
Now, when you plan to build with steel, you can thank the AISC for smoothing out the process. Whether you choose an AISC certified fabricator or a less conscientious supplier, you still enjoy the hard work of the AISC.
However, if you select a certified AISC structural steel partner, you receive benefits that add real economic value to your projects.
INDUSTRY PROMOTION OR STANDARDS: CHICKEN OR EGG?
While the AISC core mission is to promote structural steel as the building material of choice, in order to sell the concept, the product must already be the easy option. In other words, by developing:
Effective technical guidelines
Standardized codes
Material and building efficiencies
Management techniques dedicated to safety and accuracy
Trustworthy certifications for quality milling and fabrication, and
Educational programs for every player in the industry …
… market development offers very little difficulty. Structural steel sells itself.
After all, the benefits can't be denied as long as steel remains:
As strong as promised
Efficiently and safely assembled
Versatile, and
Reliably uniform in composition across all supplier mills and fabricators.
Once these market stabilizing conditions were met, steel easily ascended as the preeminent building material in almost every application.
By gaining the cooperation of the industry experts, the AISC became the central bank of structural steel knowledge and the trusted arbiter of safe, effective procedures.
SO, HOW DOES AN AISC CERTIFIED FABRICATOR HELP YOU?
Building with steel is an ever-evolving process. Workable operations today could be improved tomorrow. Conversely, tomorrow's structural failure could be entirely averted by today's diligence. If your steel supplier fails to take advantage of the support and discipline of the AISC, you may be rolling the dice on your project's future.
Because the AISC combines a century of knowledge and experience from every aspect of the structural steel industry, each AISC member has access to the totality of steel construction wisdom.
Additionally, as a certified member, your supplier agrees to the highest levels of professionalism. From planning, design and material identification down to each individual weld, every aspect of the project must follow established procedures. Quality control methods and documentation at every step assures safety and accountability to your order.
As a certified AISC fabricator, your supplier agrees to annual on-site audits. Inspections bolster commitment to continuing education, safety measures and quality output. While non-certified fabricators can take short cuts if doing so seems convenient, the certified company will not. 
Therefore, when you choose a steel partner with AISC certification, you have the peace of mind knowing that:
Your plan development will meet or exceed all regulatory requirements
Your shop designers have received the education and testing to provide accurate shop drawings every time
You will receive quality steel members and rebar fabricated exactly to your specifications
Assembly at the factory or on-site will meet or exceed quality and safety standards
All actions to fulfill your order will be documented in a useful and organized manner
Your project will enjoy fewer errors or delays, if any
Everyone at the facility is dedicated to quality craftsmanship, efficient production and your satisfaction
The entire staff producing your order will be dedicated to the long-term success of your job
Your structural steel fabricator enjoys ready access to over a century of collective industry science and support professionals.
BARTON SUPPLY: THE PREFERRED STEEL FABRICATOR OF THE COLORADO FRONT RANGE
Although gaining and maintaining AISC certification is a rigorous and costly process, it absolutely pays dividends to our customers. That's why Barton has achieved decades of success building the Colorado Front Range. Watch here as we top off one of our latest projects.
If your job requires strict adherence to best industry practices, give us a call today.